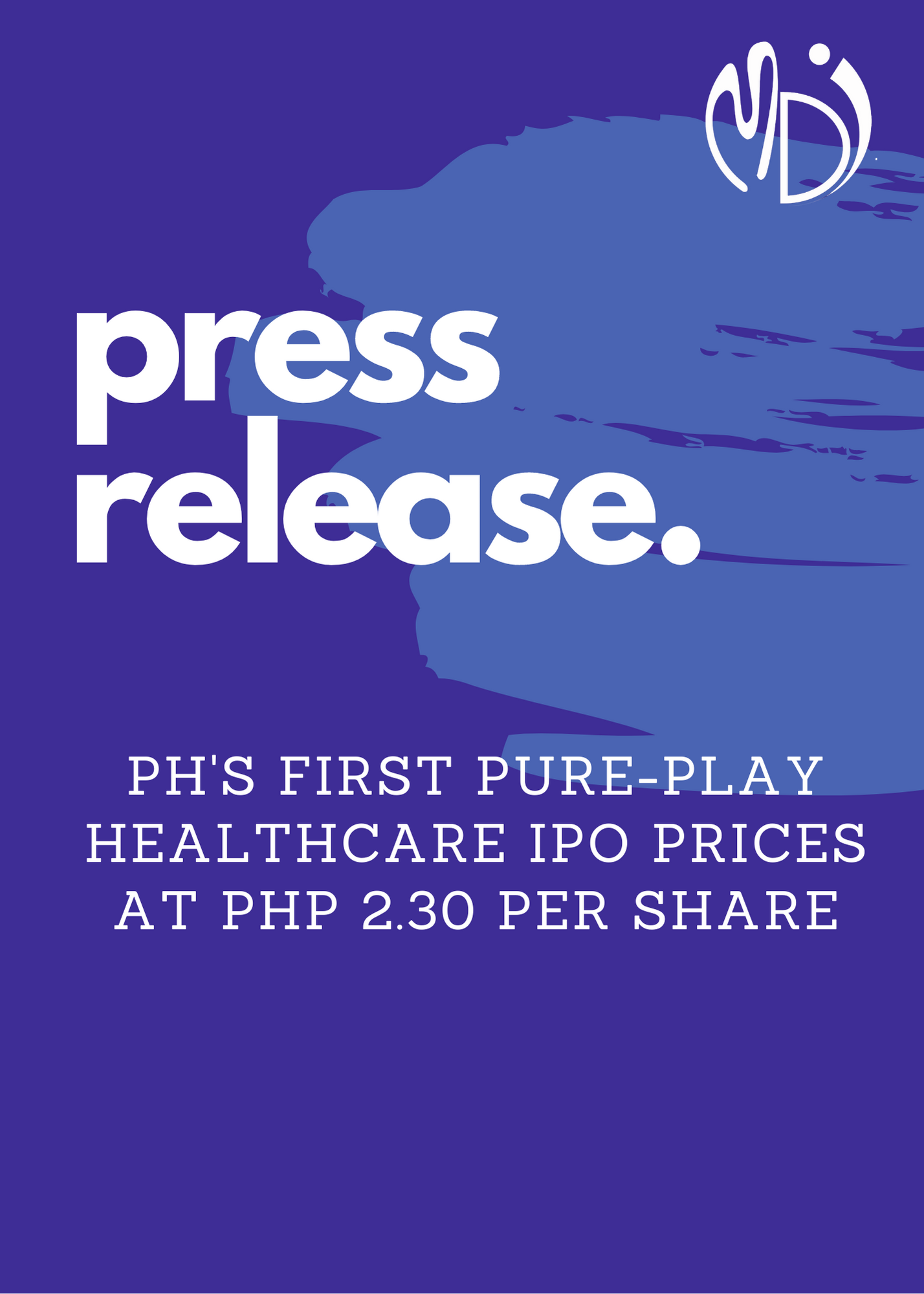 PH's first pure-play healthcare IPO prices at P2.30 per share
Medilines Distributors Incorporated ("Medilines"), one of the leading distributors of quality medical equipment to public and private healthcare facilities across the Philippines, has priced its initial public offering (IPO) at ₱2.30 per share or 6% lower than the maximum pricing guidance.

"We wanted to leave more upside on the table for our new shareholders who would get to directly participate for the first time in the continuous growth of the healthcare industry in the Philippines," said Virgilio B. Villar, Chairman of Medilines.

Part of the proceeds from the IPO will be directly used by Medilines for its foray into the high-growth, high-margin medical consumables business to support the growing industry.

"We hope to attract long-term shareholders that share our vision in providing quality healthcare to every Filipino", Villar added.

Founded in 2002, Medilines maintains a portfolio of best-in-class equipment from multinational brands such as Siemens Healthineers (Germany) for diagnostic imaging, B. Braun (Germany) for dialysis, and Varian (USA) for cancer therapy. The company plans to expand their presence and their product portfolio in the near future to help enhance the country's healthcare system through quality medical devices.

Sales from 2018 to 2020 jumped from P1.17 billion to P1.47 billion which translates to a compounded annual growth rate (CAGR) of 11.9%. Net profit during the same period grew from P77 million to P103 million or at a CAGR of 16%. For the first half of 2021, Medilines net income was at P100 million owing to the resilient demand for its medical products.

Based on a recent independent study by Ken Research, in terms of expenditure, the healthcare industry rose from ₱489.1 billion in 2014 to ₱911.4 billion in 2020 (or a CAGR of 10.9%). Healthcare expenditure is expected to grow further at a CAGR of 11.2% to reach ₱1.5 trillion by 2025, driven by a growing and aging population, growing incidences of diseases such as cancer and pneumonia, as well as increased efforts by the government to expand and modernize the country's healthcare facilities.

"The move is expected to further strengthen the interest in the country's first pure-play healthcare IPO, " said Gerry B. Valenciano, President and CEO of PNB Capital and Investment Corp., the sole issue manager for the offering.

The target offer period for the IPO will be from November 22 to 26. Target listing date on The Philippine Stock Exchange ("PSE") is on December 7 under the ticker "MEDIC".

Retail investors will be able to buy the IPO shares online via PSE Electronic Allocation System (PSE EASy) during the offer period. The minimum subscription will be ₱2,300 and a maximum of ₱98,900.

PNB Capital is the offer's sole issue manager, lead underwriter and sole bookrunner.

A preliminary prospectus for the initial public offering of Medilines Distributors Incorporated may be obtained from https://www.medilines.com.ph/company-disclosure/sec-filings, which is subject to completion or amendment without notice. The preliminary prospectus also contains the information required to be stated in any notice, circular, advertisement, letter or other forms of communication that will be published or transmitted to any person after a registration statement has been filed under Rule 8.3.1 of the 2015 Implementing Rules and Regulations of the Securities Regulation Code of the Philippines and which information is incorporated by reference in this communication.

A REGISTRATION STATEMENT RELATING TO THESE SECURITIES HAS BEEN FILED WITH THE SECURITIES AND EXCHANGE COMMISSION, BUT HAS NOT YET BECOME EFFECTIVE. THESE SECURITIES MAY NOT BE SOLD NOR OFFERS TO BUY THEM BE ACCEPTED PRIOR TO THE TIME THE REGISTRATION STATEMENT IS RENDERED EFFECTIVE. THIS COMMUNICATION SHALL NOT CONSTITUTE AN OFFER TO SELL OR BE CONSIDERED A SOLICITATION TO BUY.