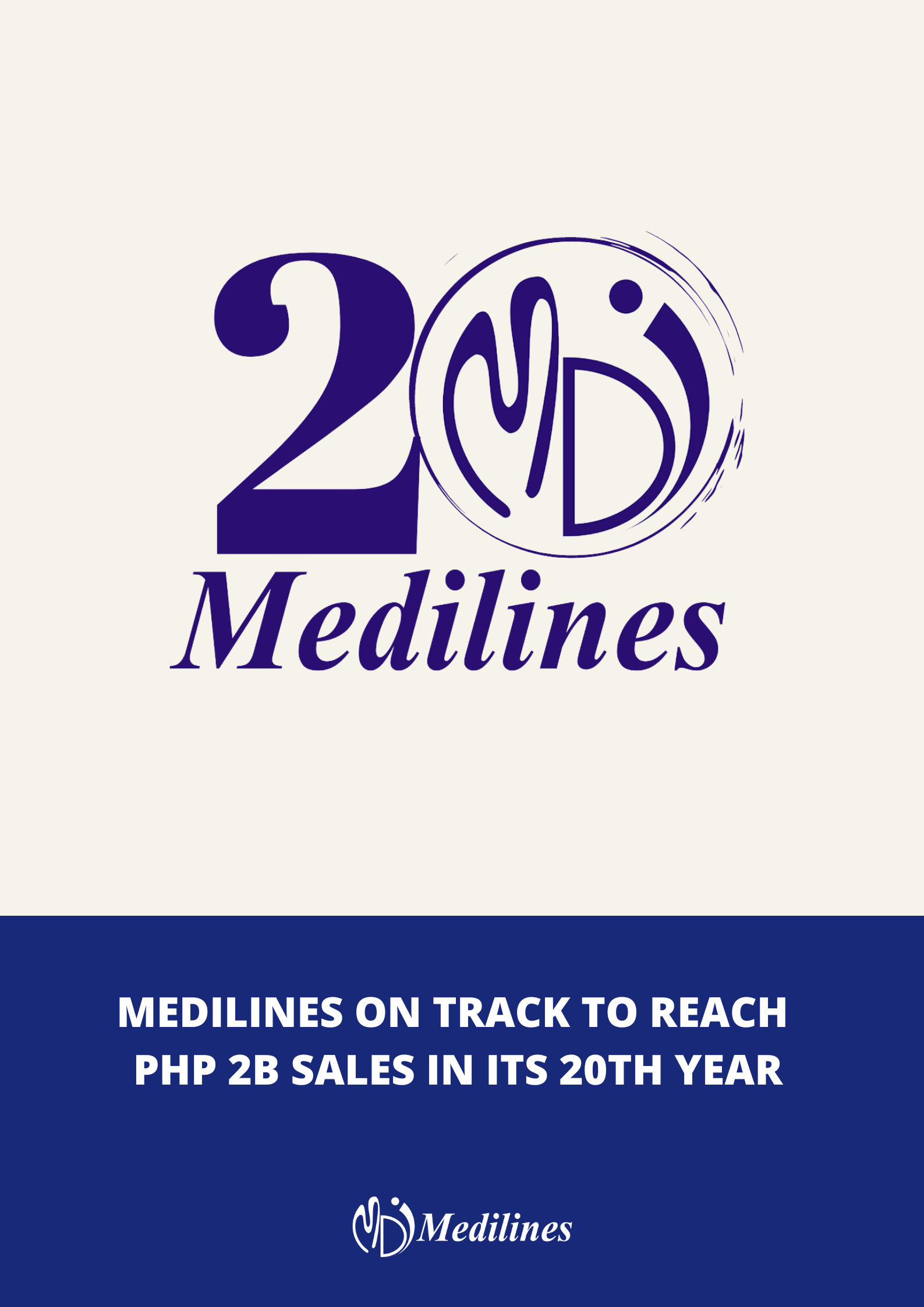 Medilines on track to reach P2B sales in its 20th year
Medilines on track to reach P2B sales in its 20th year
The country's 1st pure-play healthcare listed company recorded P170 million in net profits in 2021

05 July 2022, MANILA, Philippines—Medilines Distributors Inc., a leading provider of high quality medical equipment in the Philippines, expects to surpass its record financial performance in 2021 on the back of its continued expansion of its consumables business and completion of ongoing public and private healthcare facilities projects ahead of its 20th founding anniversary.

Listed on the Philippine Stock Exchange (PSE) with "MEDIC" as trading symbol, MEDIC reported a 65% year-on-year growth in net profit to a record Php 170 million last year as gross profit margin rose to 21% from 17% in 2020 while net profit margin increased to 11% from 7%.

"We expect sales to improve this year in the wake of increased vaccinations and more relaxed mobility restrictions. Our goal is to push sales to PHP 2 Billion this year", MEDIC Chairman Virgilio Villar said.

Villar explained that the quarantine restrictions had hobbled Medilines' ability to reach certain project milestones in the previous years, which slowed down the company's ability to collect from customers. Some projects were even suspended, he added.

So far this year, Villar shared that the revenue trajectory is encouraging.

MEDIC President and Chief Executive Officer Patricia Yambing said that at the end of the first quarter, the company is already working on PHP 1 Billion worth of purchase orders.

Yambing added that cutting-edge medical equipment is set to be delivered to Northern Mindanao Medical Center in Cagayan de Oro, the Bicol Regional Training and Teaching Hospital in Albay, the Mariano Marcos Memorial Hospital and Medical Center in Ilocos Norte, and the Philippine Children's Medical Center in Quezon City.

She added that MEDIC is further expanding its consumables product segment with the completion of its new and bigger warehouse. The 1,282-square meter warehouse will be storing consumables, in addition to the company's medical machines.

While the public health sector has been the major source of revenue for MEDIC, the company is also strengthening its current partnerships and exploring new ones, on top of expanding its private institution portfolio.

"We are confident that sales will continue to increase post-pandemic. The health crisis caused by COVID-19 highlighted the need for the government, the private sector, and individuals to put a premium on healthcare. The government's focus on advancing healthcare has been backed up by increased spending on improving medical facilities and care, and the passage of the Universal Healthcare Law," Yambing said.

Mr. Villar is optimistic that Medilines' improving financial performance will eventually be reflected in the market value of its stock, which has fallen below its initial public offer price.

He said the company is looking at other initiatives to enhance shareholder value, among them are special dividend payouts and a possible buyback of shares. "We believe the market has under-appreciated the value of Medilines and its future prospects," he added.

###

About Medilines Distributors, Inc. (MEDIC)
MEDIC is a leading provider of high quality medical equipment in the Philippines, focusing on three categories of specialized medicine such as Diagnostic Imaging, Dialysis, and Cancer Therapy, in partnership with the world's leading brands which include Siemens Healthineers, B. Braun, and Varian. First incorporated in 2002, MEDIC is led by its chairman Virgilio "Jojo" Villar, with over 34 years of experience in the medical industry. Today, Medilines is the country's first pure-play healthcare listed company in the Philippine Stock Exchange.

Disclaimer: This press release may contain "forward-looking statements" which are subject to a number of risks and uncertainties that could affect the MEDIC's business and results of operations.
Although MEDIC believes that expectations reflected in any forward-looking statements are reasonable, it can give no guarantee of future performance, action or events.