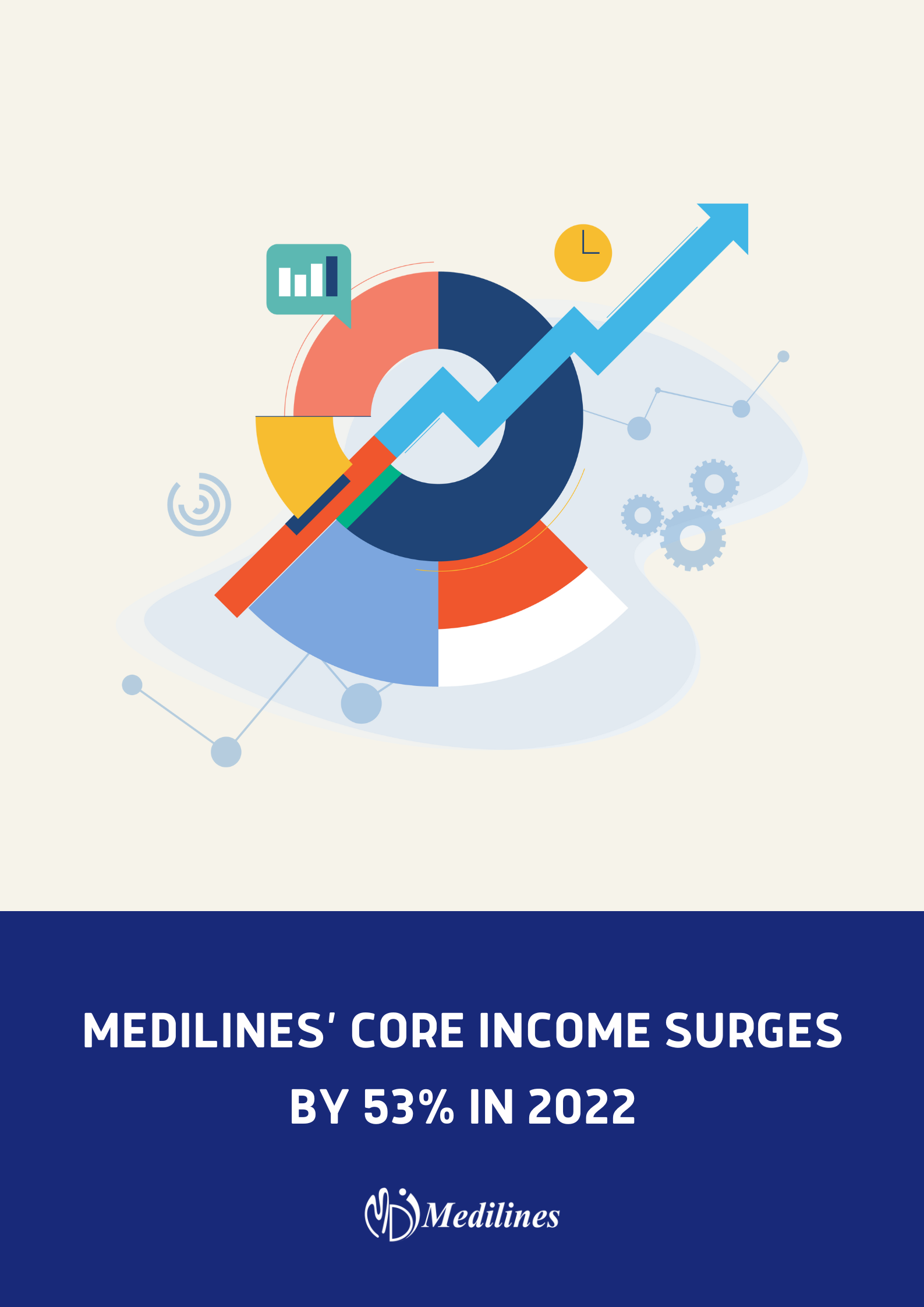 Medilines' Core Income Surges by 53% in 2022

Medilines' Core Income Surges by 53% in 2022

Medilines Distributors Incorporated, listed on the Philippine Stock Exchange (PSE) under the symbol "MEDIC", ended the year December 31, 2022 with P214 million in core earnings, equivalent to a 53% growth year-on-year. The Company's remarkable increase in bottom-line was primarily due to 24% growth in revenues, a strong drive for operational efficiency, and a bigger focus won the growth of its Dialysis product segment.

The Company posted P1.9 billion in revenues, more than half of which was driven by the distribution and delivery of Cancer Therapy equipment worth P1.1 billion in total. Linear Accelerators were delivered to major public hospitals around the Philippines, namely: Region 1 Medical Center in Pangasinan, Mariano Marcos Memorial Hospital and Medical Center in Ilocos, Philippine Children's Medical Center in Quezon City, Rizal Medical Center in Pasig City, and Vicente Sotto Memorial Medical Center in Cebu City.

Diagnostic Imaging equipment, which contributed 16% of the Company's top-line, grew by 5%, achieving sales of Php306 million in 2022. CT Scans, MRI, Fluroscopy, C-Arm, Ultrasound, and Cathlab, were delivered to Philippine Children's Medical Center in Quezon City, Army General Hospital in Taguig, San Pedro Jose L. Amante Emergency Hospital in San Pedro, Calamba District Hospital in Calamba, Cotabato Regional Medical Center in Cotabato, Amai Pakpak Medical Center, and Sultan Kudarat Provincial Hospital in Isulan.

The Company's Dialysis segment showed notable increase in its distribution of the consumables product line, reflecting an astounding growth of 76% year-on-year. The expansion of its dialysis consumables line of products is one of the pillars of Medilines' growth strategy.

"We are happy with our 2022 results which is a banner year for the Company. We remain bullish with the industry for this year, and we believe that we are in the right position to take on more opportunities as we sustain our leadership in the medical equipment and consumables distribution market," said Medilines' President and CEO, Mrs. Patricia V. Yambing. The Company sees a huge opportunity in the healthcare industry. "Our focus remains on business strategies that will deliver profitable and sustainable growth over time. We are looking at a steady growth in 2023, as the government implements its Philippine Health Facility Development Plan (PHFDP)," she added.

For 2023, Medilines is preparing itself to aid the Government's focus in improving healthcare facilities. The Department of Health (DoH) last year has already announced the implementation of the PHFDP which aims to create regional specialty centers across the country. The Government is also looking to expand its dialysis wards in state-owned hospitals to support the widening coverage of the Philippine Health Insurance Corporation's (PhilHealth) dialysis treatments.

Medilines continued to provide exemplary service to its customers in the public and private sector last 2022, which was also Medilines' 20th anniversary. Some notable milestones include the provision of a state-of-the-art cancer diagnostic equipment for Southern Philippines Medical Center, the first most comprehensive cancer diagnosis package in Mindanao. The Company also delivered and installed the Siemens Luminos dRF with Ysio Max in the Philippine Children's Medical Center. As a medical center focused in pediatrics, this diagnostic imaging equipment is the best choice as it features fully digital 2-in-1 solution imaging technologies such as radiography or X-ray, could position the patient lying down while the machine produces moving images of the body's internal organs, and has a configuration that can comfortably cater to a child's body frame. Medilines also joined Sacred Heart Medical Center, a private hospital located in Angeles City, in inaugurating its third linear accelerator equipment in honor of its founder, Mr. Tan Song Bok. With Medilines' support in the delivery and installation of the hospital's third linear accelerator, Sacred Heart Medical Center is now able to expand its services to cover cancer patients hailing from Bulacan, Tarlac, Bataan, and Pangasinan, and to serve more than 100 cancer patients a day.

Medilines also started the operations of its new warehouse in Pasig City in July last year. It is equipped with cold storage facilities, staff offices, and 1,282 square meters of space to store consumables and medical machines. The new warehouse will further support the Company's growth initiative by providing more space for the expansion of its Dialysis Consumables segment and by freeing up costs arising from warehouse leasing and third-party logistics services.

Since its listing on December 7, 2021, Medilines has shown strong fundamentals. Its 2022 results are a reflection of the importance of healthcare and the significant role the Company has in providing world-class medical equipment and facilities to Filipinos.